Passionate about Chinese culture and cuisine, the MAIC F&B family has been highly dedicated to creating a new brand – May Dynasty Chinese restaurant. The restaurant provides delicious food and Chinese culinary culture for diners to experience, enjoy and freely explore Chinese culture.
Overview of May Dynasty Restaurant
With various cuisine cultures at Phan Xich Long Street, May Dynasty made it busier with the elegant and diverse Chinese cuisine style.z
Parallel development with a thousand-year history, Chinese cuisine culture creates a specialization that can be hard to replace, attracting diners worldwide. The East land ranges from elementary to pedantically, from frugal to full of flavor that brings an enjoyable meaning to customers.
Our restaurant brand name is "May Dynasty," the word "May" 梅 in Chinese means plum blossom. In the harshness and rough condition of winter, Plum blossoms bloom early, bringing a sign of spring which is seen as a lucky symbol. Plum blossoms represent happiness, luck, longevity, and peace. Our restaurant sends a wish through this name, wishing all the best things like the meaning of plum blossom to each diner to May Dynasty.
Chinese Restaurant Menu
Each region in China has a unique characteristic in its cuisine. From elementary to pedantic, from frugal to full of flavor, Chinese foods become diverse with different styles. Until recently, diners worldwide have had a chance to try and taste most of the well-known dishes. At May Dynasty, our menu is served with Chinese taste and style, which contains special meaning in their unique culture
Chinese Food Flavor Characteristic
The first characteristic we need to mention is rice, noodle, and all related foods that contain these ingredients, such as dumplings, noodles,… Locals can use these popular foods daily, except for rice. Some of them have particular signification, like 长寿面 /Chángshòu miàn/ (Efu noodles) – longevity noodles that are typically used on birthdays, and 饺子/Jiǎozi/ – dumplings with reunion meaning is frequently eaten by family members in Lunar New Year.
Besides, due to the natural condition, history development, and cooking ingredients affection, people divided Chinese food into four different styles, which include: 四川 /Sìchuān/, 山东 /Shāndōng/, 广东 /Guǎngdōng/, 江苏 /Jiāngsū/.
Sìchuān's significant cuisine is described as a notable one focused on color, extremely spicy flavor, and ideally combined sweet, salty, sour, bitty, and flavor.
Shāndōng's food is an inelegant and rustic man with bright colors, using a lot of onion, garlic, and seasonings. The natural and fresh flavor becomes outstanding through the simple and essential cooking method.
Guǎngdōng's dish is elegant as a dandy in a southern place. Good at fried, stewed dishes, crisp and incredible taste, Guǎngdōng's food pay great attention to the perfection of the plate, including color – flavor – taste – presentation.
Jiāngsū's food is compared with a pretty lady, highly focused on using knife techniques and delicate processing to ensure the dishes' freshness and frugality.
In addition to cooking methods and seasonings, Chinese people are careful and elaborate in choosing cooking ingredients. All of it needs to meet the new and delicious requirements to reach the best quality in flavor.
The Reasons why is Chinese food popular in Vietnam
Particularly in processing, innovation in seasonings, attractiveness in presenting, and value meaning are all facets that settle the top position for Chinese cuisine, which become more popular and entice Vietnamese diners.
Chinese Restaurant May Dynasty Significant
Almost all favorite Chinese dishes with diverse cuisine styles are already on our restaurant's menu. With a green, fresh, and famous chef from Singapore, we are proud to provide specific food from orthodox to modern.
Dimsum
It is Chinese traditional food with a thin layer of dough on the outside and sweet or savory fillings inside. They are usually steamed, boiled, fried,… dim sum, and used as a snack in the morning.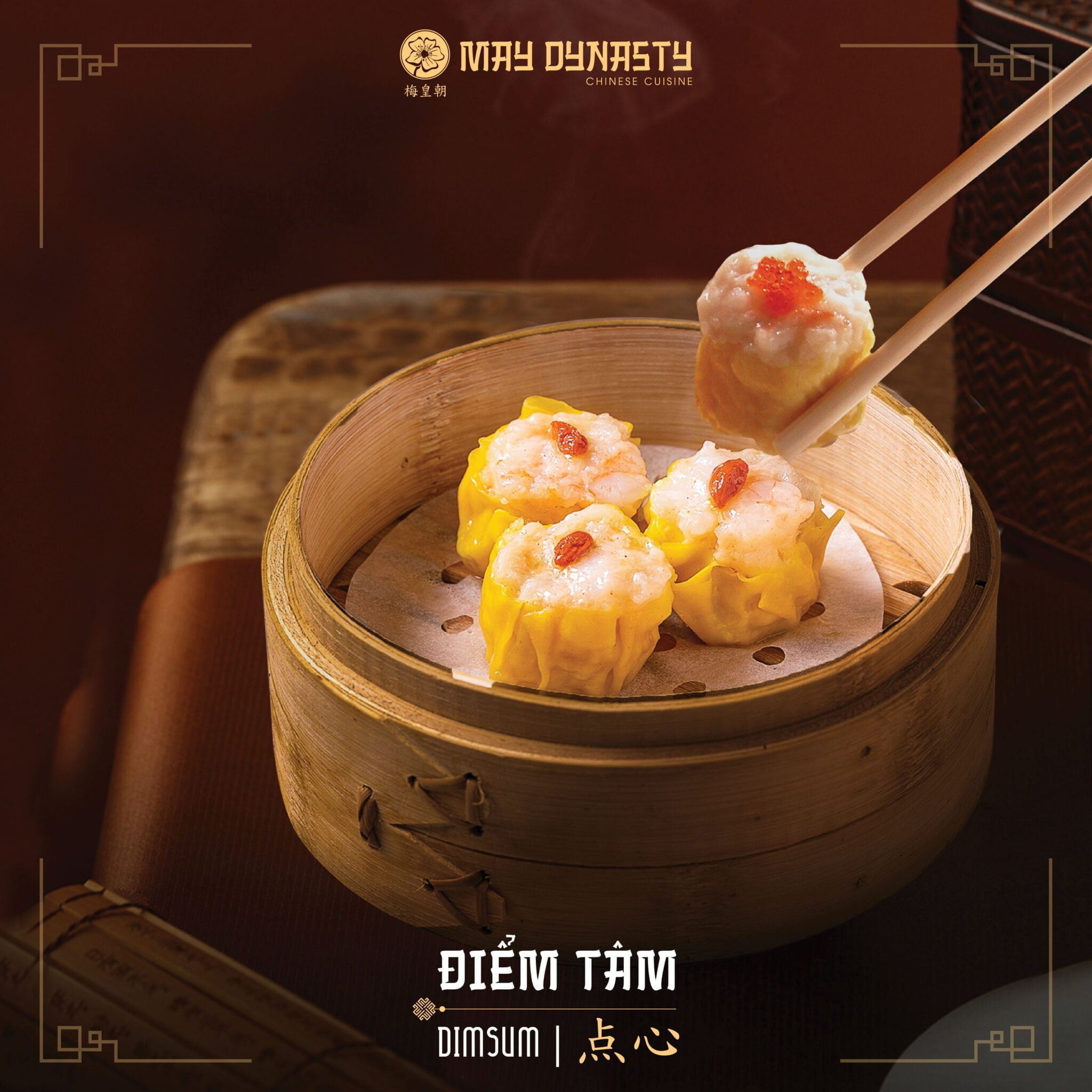 Peking Duck
According to Chinese dishes, it is indispensable to mention Peking Duck, a unique and famous dish all over the planet. Special processing, crispy skin, rolled with rice paper, vegetables, and sauce. Meat can be processed with noodles, rice,… into a second dish.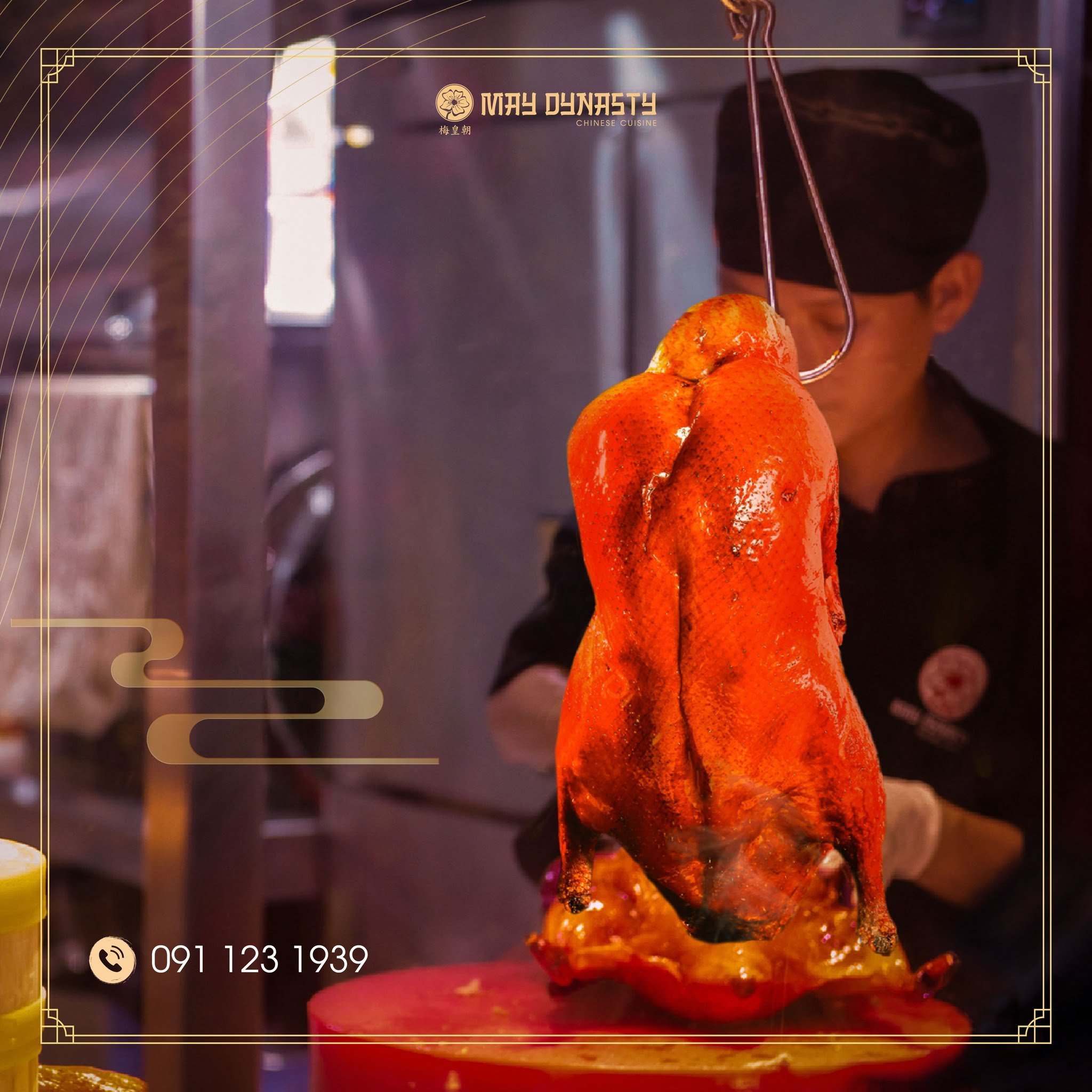 Premium Soup, Thai Shark Fin Soup
Not only do they create delicious and incredible foods, but Chinese ancestors from thousands of years ago also focus on their health by combining Eastern traditional medicine in their foods. Premium soup, Thai Shark Fin soup which includes the most nutritious ingredients like sea cucumber, abalone, shiitake mushroom, shark fin,… to improve it.
Crab with Singapore sauce, Sichuan Cooked Beef with Chili, Stewed Bean with Seafood in Casserole, Shrimp and XO sauce Fried Rice
These are famous Chinese dishes with typical flavors of culinary schools such as Sichuan, Cantonese, and Singapore.
May Dynasty Dry Noodles, May Dynasty Fried Rice
Use May Dynasty's exclusive sauce to make dishes that bring out a unique flavor only available at May Dynasty.
May Dynasty Restaurant Space
Besides dishes, restaurant space is an essential and quintessential facet of creating the best experience for diners. Skillful in combination with orthodox and modern elements, we bring the feeling of closeness, friendliness, and comfort while maintaining the sophistication, elegance, and classic features of The Great Wall land.
Architecture
Use concrete, wood, and stone to create a harmonious combination of coziness and class. The artwork on the wall contributes to making the space more elegant and sophisticated.
The entire May Dynasty space includes:
An open kitchen.
Four floors with family tables.
A small table for two.
A large table for parties.
A garden close to nature.
A VIP room for those who want to expose themselves to privacy.
Open kitchen
When customers enter the restaurant, they will observe the spacious and clean kitchen, modern equipment, the chefs are quickly frying, stir-frying the food with skilled art and fragrant taste.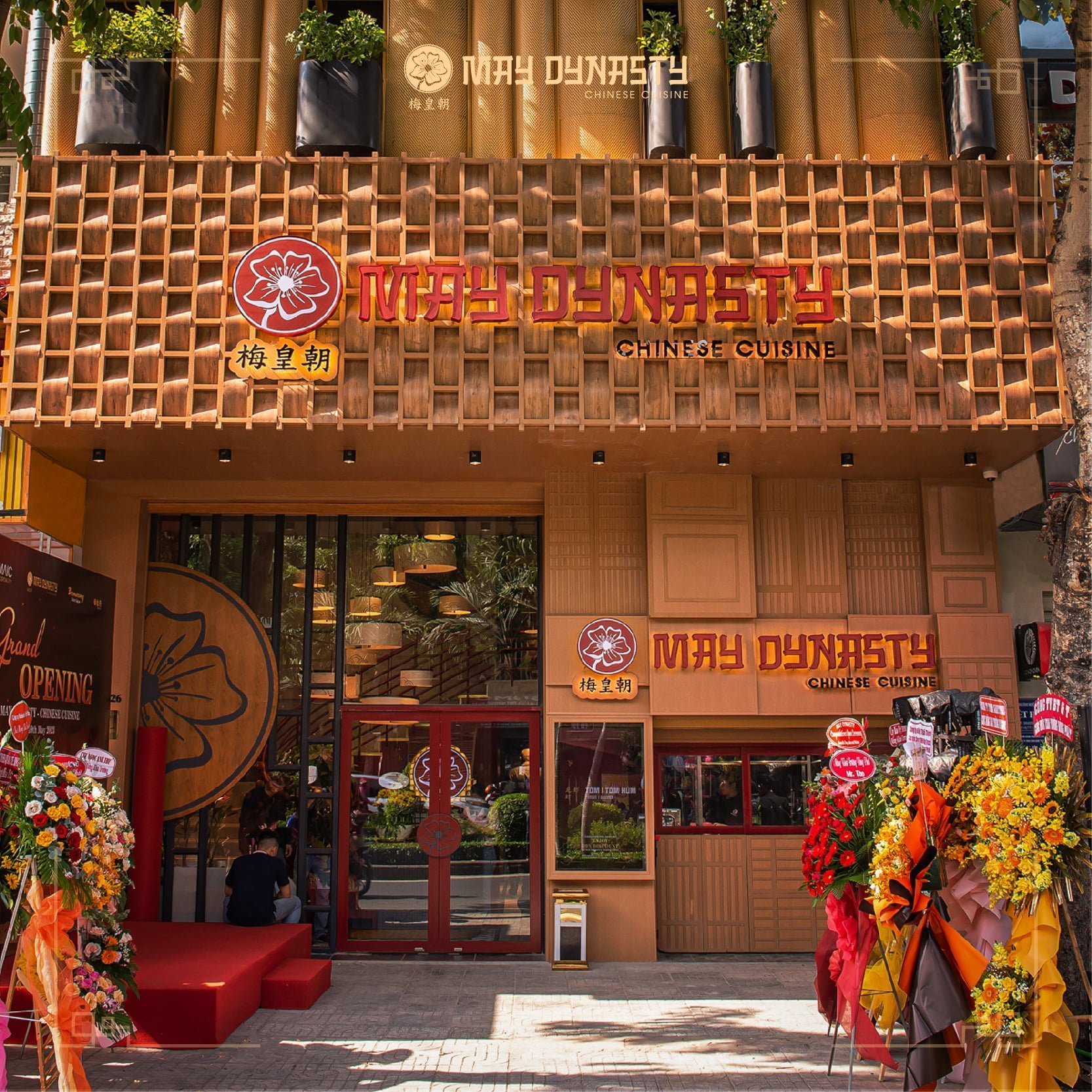 Lobby area
Having a spacious space, warm yellow light combined with redwood walls, and chandeliers imbued with traditional Chinese culture is both modern and orthodox. Decorating with many green trees to make the atmosphere more airy, beautiful accents for the space filled with red and yellow colors.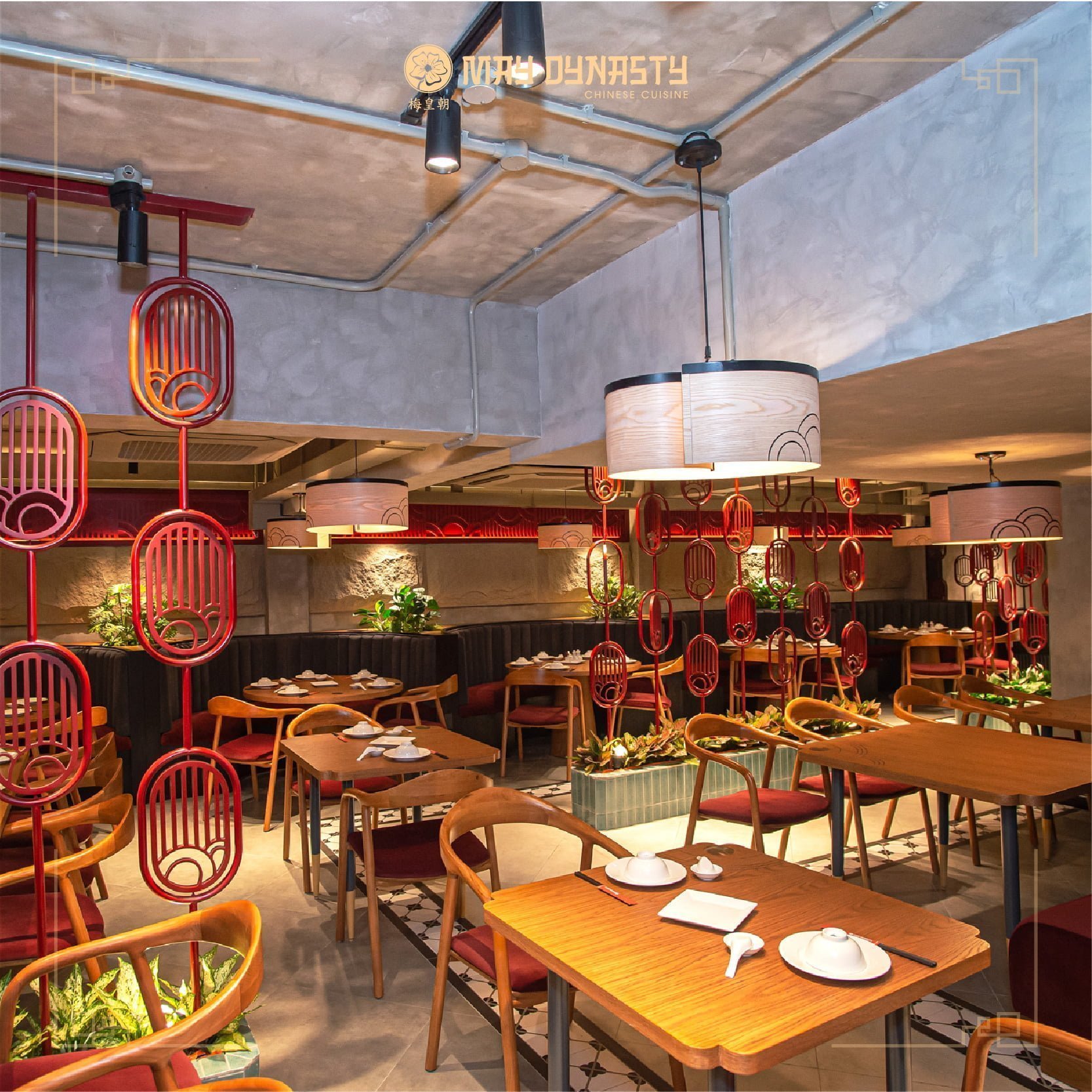 Garden Area
The vegetation is reasonably arranged, bringing a space in harmony with nature, green and still clean. The steel mesh design helps the dining area still have wind but prevents dust from entering, keeping the dining area clean.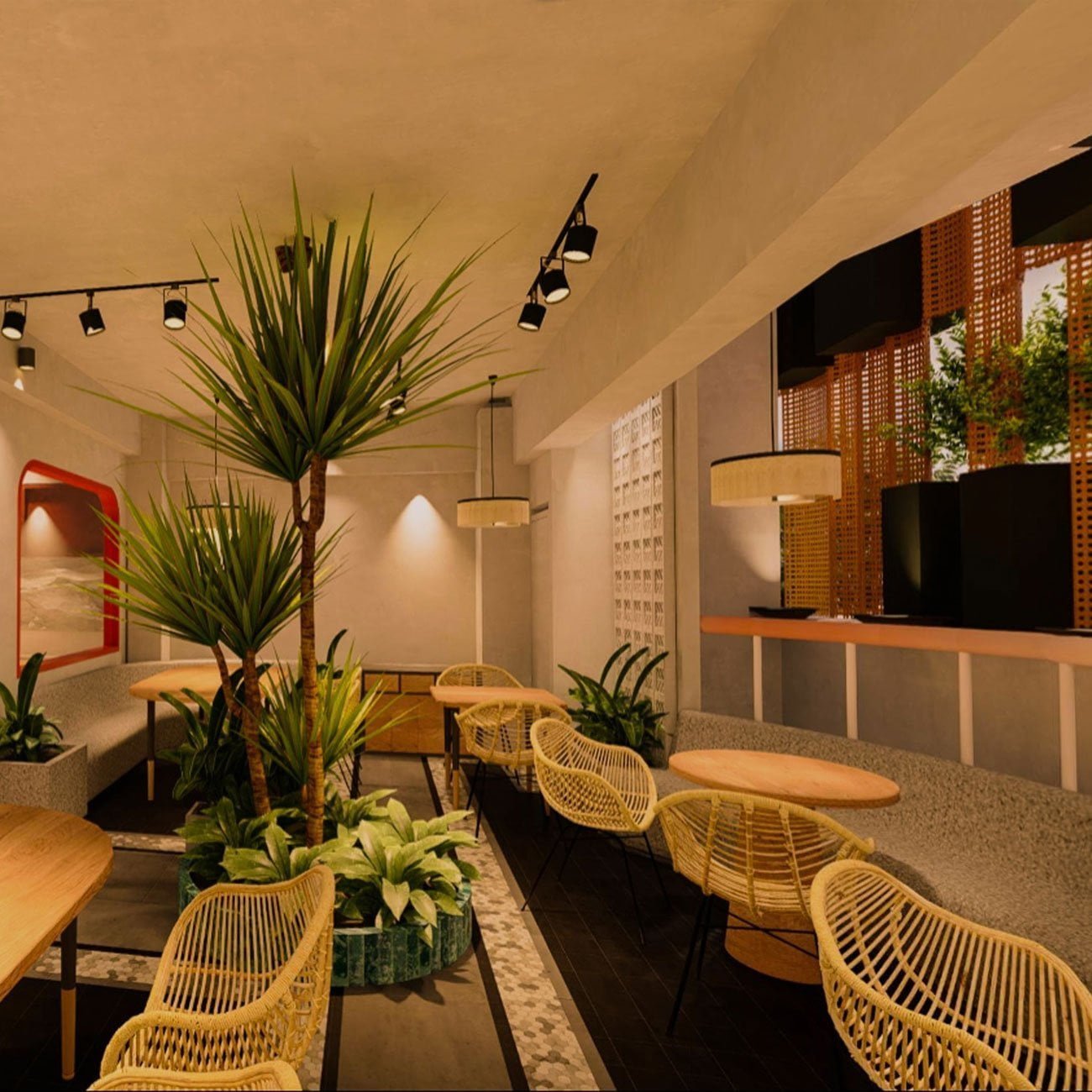 Exposure to the natural space in the middle of crowded, narrow streets will help diners feel more chill and comfortable.
VIP Room
Closed dining area with a capacity of 10-20 people. Private space for more comfortable business conversations and discussions.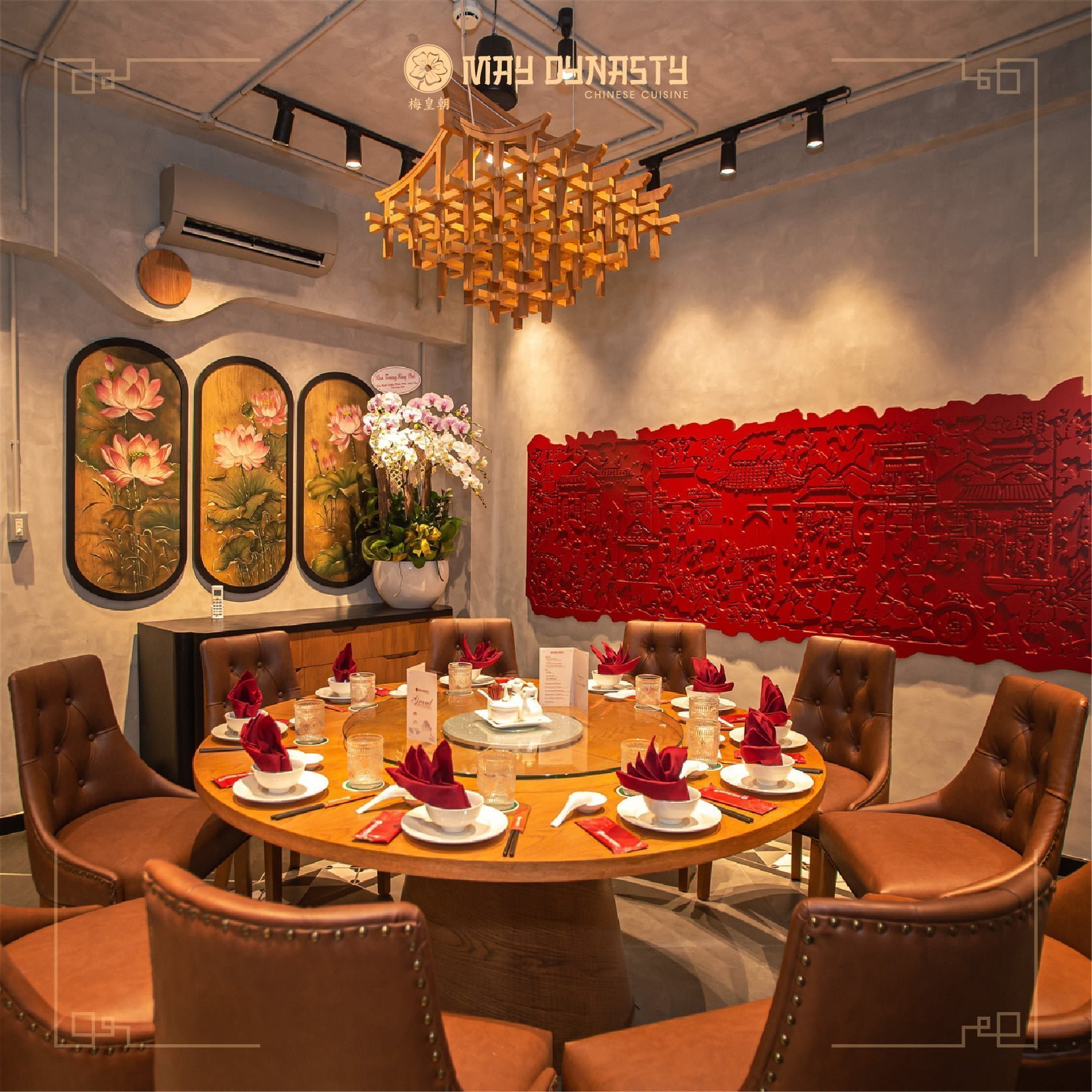 Atmosphere
It would be fantastic to gather with your family here with the luxury and elegance of the warm yellow light. Experience the calmness, settle the complicated chaos outside, and return to the most peaceful moment together.
May Dynasty is also an excellent place for dating with romantic conversation in an artistic and poetic space.
For those interested in and expecting to explore Chinese culture, May Dynasty is also to be noticed, with a space filled with designs and artworks bearing Chinese culture and style for you to discover and observe.
Restaurant Staff
Waiter
May Dynasty Restaurant's waitstaff is thorough training with a comprehensive understanding of our menu, and a high level of service skills will bring our customers the most comfortable experience.
In particular, with dishes like Peking Duck, the restaurant's service team with skinning and rolling cakes skills gives diners the best experience.
Chef
Chinese Restaurant May Dynasty is so pleased and lucky to have the famous and well-trained from Singapore come to Vietnam to provide significant Chinese dishes.
Skilled in preparing and presenting dishes, quick and beautiful manipulations can be observed through the open kitchen space.
What makes our May Dynasty chef always interested in serving the best dishes to diners? Choose the fresh ingredients, great tasty seasonings, process the complicated foods and beautiful decorations, and keep food hygiene and safety our highest standards at May Dynasty.
Contact, Address, and Reservation
Located at 226 Phan Xich Long Street, Ward 7, Phu Nhuan District, Chinese Restaurant brings significant Chinese dishes from different places of China like Sìchuān, Shāndōng, Guǎngdōng, Jiāngsū.
Come and enjoy new flavors and new cuisine. Book a table in advance to receive attractive Offers exclusively for Reservations.